« Go for a Walk | Main | Painting for my show in Ottawa »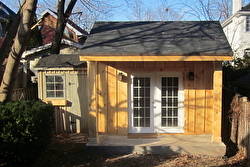 It's done and I have been working in there for a week now. The lighting is perfect...love my new shack.
A short commute from my back door makes it even better. I have 3 works on the go right now, with a lot more on the way.
Stay tuned to my website for new works from the shack.
---
---
Comments
1 Response to The Studio
Barbara Cassidy
via danryanfineart.com35 months ago
It looks great...but where are the rocking chairs for the front porch? I'm going to come visit you some day between 9-11am.
* indicates a required field